Photo credit: The National CV of UK
Ever wondered who invented the lawn mower? What did it look like? How was it called? How did it evolve to what it is today? These are just a few questions on lawn mower history that you may have.
Don't worry, Tools Official takes you back in time when the first lawn mower was invented so you can appreciate that mower you're using today.
Thanks to this ingenious invention that slashes grass cutting time in half, we now have a lot of lawn mower choices to choose from.
How long have lawn mowers been around?
As you go cut your grass, have you ever wondered what it was like when lawn mowers haven't existed yet?
In 1700s France, maintaining wide portions of spruced-up lawns is hard work. Farm animals or yard keepers with shears and scythes were employed to cut grass and maintain its quality.
The same concept has been done to other parts of Europe for so many years. By the 1800s in England, homeowners with large lawns also relied heavily on animals. People rely on sheep to trim their grasses.
On some occasions, when the animal couldn't perform the cutting, the homeowner would pass the time until the grass has grown long enough, wet it a bit for easier cutting, and trim it with a scythe.
It was that rigorous that people didn't want to invite guests over and just let the grass grow during winter!
Still, after a few decades, homeowners and yard owners continued to rely on various mechanical processes in trimming their lawns until 1830, when the first lawn mower was invented. For so long, cutting grass has been a very exhausting task.
What inspired the lawn mower?
It was 1830 when Englishman engineer Edwin Beard Budding, while working in a cloth mill, observed that a device used in cutting carpet fabrics can be replicated and modified to make a machine that could cut grasses.
With the original device as his inspiration, Budding created a cutting cylinder mounted on a bench with a self-propelling mechanism and turned it upside down. And so, the world's very first lawn mower was born.
What was the first lawn mower called?
Budding asked for a friend's help, engineer John Ferrabee, on reproducing more of this cutting cylinder in a manufacturing plant in Stroud. Stroud was at the center of the Industrial Revolution, located in Gloucestershire, England. Stroud was also a bustling commerce center during that time.
The production of the first lawn mower became a success. It was called the cylinder mower because of its form. Despite it being heavy with its cast iron parts, the first mower was quite similar to the lawn mower we see today.
What did the first lawn mower look like?
The first lawn mower had a wooden handle, a big roller that contained the cutting cylinder in front, and cast iron gear wheels. Like the mechanism of today's self-propelled lawn mowers, the wheels of the first mower transmitted power from the back roller to the cutting cylinder.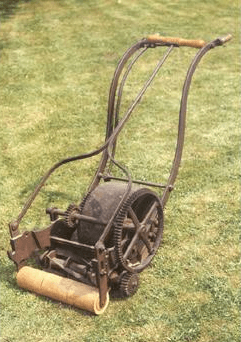 Photo credit: BBC
According to BBC, rumor has it that Budding tested his device prototype at night to stay away from the prying eyes of his neighbors!
Budding and Ferrabee patented their invention so that, people who would like to copy it should obtain a license from them prior to reproduction. This started the evolution of the push mower that we know today.
In 1832, J.R. & A. Ransome from Ipswich, England managed to get a license to mass-produce the device. The first lawn mower was well-received by the public as it was reported that The Ransomes Co. manufactured around 70-80 machines per year.
In 1837 England, pleasure grounds or parks for outdoor activities became popular. These open spaces provided people hang-out spots or sports grounds for entertainment and relaxation.
With this, came the increased demand for lawn mowers, so much so that businesses even hired people to do the mowing.
But as large lawns increased in number, so did the demand for labor in mowing lawns. In 1841, Scottish engineer Alexander Shanks of Arbroath made a 27-inch reel lawn mower driven by horses. Shanks created a larger model a year after and this gave birth to the 42-inch mower.
The first reel-type mower with spiral blades appeared in the United States in 1868 when Amariah Hills, a manufacturer in Connecticut received its first license in America.
After two years, Indiana resident Elwood McGuire created a machine that made mowing easier – the lightweight sidewheel mower.
The sidewheel mower had cast iron wheels on the sides. This drives the cutting cylinder directly through ratchets located in the castings. Without a metal rear roller, sidewheel mowers were very light and cheap to manufacture.
The sidewheel mower's light weight and affordability made it popular to the masses. By 1885, the United States was producing around 50,000 mowers of this type yearly.
While the sidewheel mower became popular in the US, improvements on the lawn mower were further made in England, where grasses were too delicate to cut finely. In the US, grasses were coarser, making them easy to cut by sidewheel mowers.
Around 1895-1896, James Surner of Lancaster, England created a steam-powered lawn mower but it was just too heavy to be pulled by horses. The 40-inch machine weighed two tons, exhausting the animals pulling it. The impracticality of the idea didn't allow the invention to last.
In 1896, J.E. Ransome conceptualized the first petrol engine. Designed by W.J. Stephenson-Peach, the invention was manufactured in 1902 and sold in the market until World War I.
Petrol-powered mowers arrived in the US in 1919 through Colonel Edwin George. But before World War II, these mowers went down in sales due to the severe economic downturn. Families prioritized purchases of food over garden tools.
In 1920, sidewheel mowers carried behind a horse, car, or tractor were widely used for maintaining grasses on horseracing tracks and other similar, big-sized lawns. The 1924 lawn mower version of Toro for golf courses was a 12-foot wide device, with 30-inch mowers carried at the back of a tractor. It was three times faster than a horse-drawn mower.
In 1937, Toro made a small version of the device for the landscape contractor market. The result: a 76-inch Professional that's a combination of a small push mower and bigger machine units. It was easy to maneuver, thus, the company produced it until the 1970s.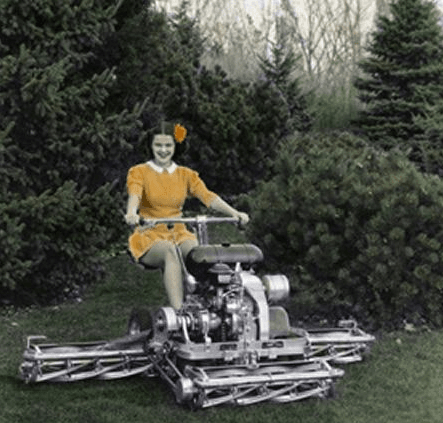 The 76-inch Professional. Photo credit: The Toro Co. at Pinterest
After World War II, lawn mower manufacturers worked double-time to keep up with the increasing demand. Companies were on the lookout for new markets that needed the peacetime product to maintain sprawling fields and small yards.
Who invented the power lawn mower?
The rotary lawn mower came to existence, thanks to buckhorn plants in Warrensburg, Missouri in 1935.
It all started with a problem. Leonard Goodall and his wife wanted to get rid of buckhorn plants that were rapidly increasing outside their coffee shop.
Goodall couldn't chop off the plants with a reel-type mower because they grow faster than the grass. So he experimented with an electric motor, which he affixed to the top of a deck. Then, he attached sharp steel blades to the motor shaft.
To power up the machine, Goodall used a 7/8-horsepower, two-cycle gas engine from his wife's washing machine. This inventiveness led to the first direct drive rotary mower that could cut Kentucky bluegrass and still leave 3 inches off it so it would keep growing nicely.
After 13 years, the Bunton Distributing Co. in Louisville, Kentucky decided to supply the Goodall mowers.
People loved the rotary mower because it's easier to maintain compared with the reel-type mower. Just take off the blades, sharpen them, and you're good to go. You can't take out the blades from a reel-type mower and this could be a challenge for some homeowners.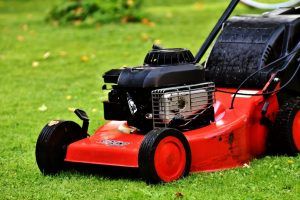 The rotary mower grew very popular between 1953 and 1959, where it outsold the reel mower by a 9-to-1 ratio. For a time, reel-type mowers had low sales. People weren't very much satisfied with the reel-type because the blades on a horizontal axis went around and cut grass like scissors. It couldn't cut tall grasses very well and blades will get damaged from too many sticks and stones.
Who improved the lawn mower?
In 1964, Hustler Turf Equipment in Hesston, Kansas produced the first zero-turn radius riding mower that made mowing easier than before. Zero-turn means that the mower can be steered easily, making driving and turning more convenient.
The first zero-turn lawn mower had a belt drive and an independent drive-wheel steering. For many manufacturers, the birth of the zero-turn radius mower is the most fundamental invention in the history of lawn mowers.
In 1969, a company focused on producing only zero-turn mowers arrived: The Grasshopper Co. in Moundridge, Kansas. People loved the zero-turn mowers as it further reduced lawn mowing time.
Since then, various technologies were developed to improve zero-turn mowers. In 1970s, the hydraulic drive was incorporated in mower manufacturing and this advancement removed the need for belts and clutches.
In 1987, Ferris Industries in Munnsville, New York launched the single hydrostatic walk-behind mower with the catchphrase "No More Belts."
It wasn't until 1990 when the first dual hydraulic zero-turn mower arrived when Joseph Berrios, a pensioned landscape contractor from Florida, created one after having difficulty in bringing his mower up a hill. The mower just had no reverse and it became a problem.
Berrios worked on improvements on his current mower. His first attempt was unsuccessful not because it didn't work but because it had low marketability.
In his second attempt, Berrios employed the use of hydraulics, with the aid of someone from White Hydraulics, a company focusing on developing hydraulic motors, located in Indiana.
When Berrios was ready to present his version of the improved mower, he turned to Dane Scag, the President of Scag Power Equipment. Scag listened to his demonstration and got impressed by the new technology presented. A partnership was made and Berrios gave his non-exclusive rights to the company.
The 1980s saw a huge number of lawn mower manufacturers brought by the invention of zero-turn mower and hydraulics. Among these are the Ferris Industries in Munnsville, New York and Encore Manufacturing Co. in Beatrice, Nebraska.
Various companies gave birth to different versions of the lawn mowers. This made a fierce competition that only encouraged each player to step up the game.
Manufacturers of zero-turn lawn mowers continue to develop advancements on the machine. Among the elements they look into are better cutting capabilities and a more compact look.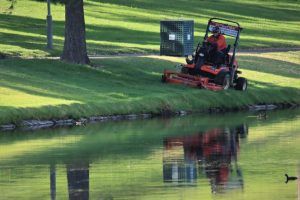 Despite the rosy outlook on zero-turn mowers, their walk-behind counterparts may seem left behind. Although this may be true as sales of walk-in mowers became static, industry experts believe that they will still be here to stay. There are still buyers who are willing to purchase these types.
The future of lawn mowers
Today, lawn mowers of different types, sizes, specifications and features are available in the market.
Industry players are looking forward to futuristic creations such as computerized mowers, remote-controlled types, solar-powered machines, robot mowers, and even machines that use laser beams to cut grass.
However, these may not be cost-effective and the need for practical but simple ones prevail.
Ground levels are too difficult to be controlled via computers. This special technology may work but they may also put a hefty price that contractors won't be able to buy.
Remote-controlled slope mowers are ideal for safe and productive upkeep of lawns on challenging terrains. This type of mowers are best for steep slopes like ground areas in Hawaii and can reduce a five-man crew to a two-man crew. This allows safer maintenance with less injuries happening onsite.
Solar-powered lawn mowers are also gaining recognition in the lawn mower industry. This type of mowers usually come in a form of an electric machine. It gets its main energy source from solar power.
They're safer and cleaner for businesses and families. Solar-powered lawn mowers are also cost-efficient. With electricity bills cut in half, this variety ensures long-term power savings. They also help decrease global emission levels.
Some solar-powered lawn mowers are hybrid and others are 100% powered by sun energy.
One of the attempts to produce a more advanced mower, is the creation of the robot mower. Ideal for homeowners who want a fuss-free device to mow their yard, the robot mower first appeared in Britain in the 1990s. It was launched in 2000s in the US.
The robot mower cuts efficiently and can be controlled by apps on iOS and Android phones from a distance. Phone users can instruct their robot mowers when to start the work and they can also set a timer should they need to leave their house.
However, for some homeowners, using a robot mower have some disadvantages. This type of mower simply cannot make stripes on your lawn, which others consider aesthetically pleasing. The device is also prone to getting stuck on objects or in holes in the yard. Moreover, a robot mower can only cut grass in a particular area. Lastly, it can only be used in small properties.
Today, contractors are also looking into plant growth retardants or growth inhibitors for lawn and landscape use to minimize leaf growth. This is done to reduce maintenance costs on larger lawns.
Coming up with a chemical retardant that can make grass appear uniformed in size and thickness can be more useful instead of the machines that use laser beams to cut grass.
Green Energy
As we continue to move forward, industry players are also paying attention to low carbon emissions of gas-powered lawn mowers. Thanks to modern technology, we now have enhanced mowers with environment-friendly features.
Noise pollution is also one of the factors being lessened, if not totally eliminated, in more advanced mowers.
People are also patronizing battery-powered mowers for its practicality and ease of use. With this type of mower, it's easier to move around the lawn and get around some hard-to-reach areas of your garden.
Wrapping Up
Lawn mowers are one of the greatest tools ever invented. The machine's evolution alone has helped a number of people from all walks of life, from grass cutters and contractors, to homeowners and leisure lovers who enjoy sports and picnic spots.
The lawn mower industry is so rich and diverse. There's just a lot of demand to cover – from difficult terrains and grass types, to personal and business use – no wonder, key players and engineers keep on redesigning in search of the best lawn mower to be made.
For aspiring inventors and engineers, knowing lawn mower history is essential to keep them inspired to do better versions of the machine. For regular homeowners and businesses, learning a bit of history could help them beef up their preferences when picking the most suitable mower that fits their needs.
Today, as people continue to look for ways to improve what we currently have, the possibilities are endless. As long as technology continues to advance, expect to see further development and variations of this simple machine that will remain to be part of lives.